R&D took part in the realization and testing of an innovative hydraulic transmission stern drive  leg
Aim of this project was the realization of a very versatile stern drive leg easy-fitting to several sailing conditions, thanks to the flexibility and modularity (independent movement) which distinguish an hydraulic transmission from a purely mechanical one.
Main features underlying the innovativeness of the project.
The following picture shows the rudder blade placed 200 mm under the keel, as the traditional mechanical transmission.
The 'propeller shaft is positioned about 200 mm. below the thread of the hull, as well as in traditional mechanical transmissions.
The innovative stern drive leg  was designed referring to the always more harder demands of the market, requiring the most efficiency of the propeller and the possibility to use the boat with different draft (hull).
The following picture shows the hydraulic transmission as released from the boat. Just for its main characteristic of being free of placing, the hydraulic transmission allow the rudder blade to accept different angular position which is the fulcrum the of the innovation.
Analizing the picture above, the following main innovative advantages of the stern drive leg  may be listed: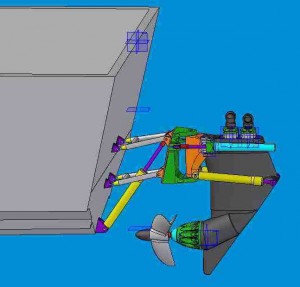 Possibility of use of the supercavitating propellers, which are the most performing available ones today.
The  supercavitating propeller reducing the hydrometric resistance, increasing the efficiency of the transmission and reducing fuel consumption.
Possibility to perform millimetric adjustments of the height of the stern drive leg in so far to optimize the performance of the propeller at the maximum draft (200 mm)
Thanks to the hydraulic transmission the steering is allowed of a blade angle of 40° in a side and 64° in the opposite side (the state of the art maximumm blade angle is 35°).
Possibility to heighten the propeller at 350 mm in order to allow the use of the boat at low depth.
The main characteristic of the innovative technology consists of the extension of the stern drive leg the same on-board manageability and flexibility as in off-board, allowing 3 hydraulic operation: steering, trim and bracket.
Visit the page "about us" in our web site to watch a video about the stern drive leg.
 Contact our Tech. Dept. to get some more information.